The first international Divi Meetup took place last weekend at WordCamp Orange County and it was a huge success.
What started as a retreat for admins of the Divi Theme Help and Share Facebook group, turned into one of the biggest Divi events since the release of Divi.
We planned the event to coincide with WordCamp Orange County in sunny Southern California. Monterey Premier rented a large AirBnB in the heart of Anaheim right next to Disneyland. And our colleagues flew in from around the world. Some flew in from as far as Great Britain and Australia.
It was exhilarating to be able to sit across from each other for the first time ever and talk shop. We shared ideas, visions, products, community and our own personal stories. It was as if we knew each other forever. It is hard to put into words the bond we had with each other. There were laughs, tears, and even gifts from afar.
On Friday evening, we gathered with other Divi users at the wonderful Gulfstream restaurant in Huntington Beach. I would like to give a special shout out to Tim Strifler of Divi-Life for picking out this place in advance and holding spots for us when we arrived. Monterey Premier was able to sponsor the evenings cocktails and appetizers helping to make it a relaxed and comfortable time of getting to know one another.
And that's when the Divi party began to take shape. We got to meet other members of the Divi community for the first time and it was simply awesome.
As the crowd began to grow, Vivien Quiroz suggested that we move the meet-up to our AirBnB where we had a pool table, pool, jacuzzi, ping pong table and lots of open gathering space. And that's when the crew from Elegant Themes arrived. And we all just had an amazing time getting to know one another, talk about web design, WordPress and of course, Divi.
And then on Saturday we all met up again at WordCamp Orange county where they had some great sessions lined up. We enjoyed great talks, educational sessions, and met even more Divi users. Nathan Weller of Elegant Themes was on game as he recorded throughout the day and even did some interviews with members of the Divi Community.
One of the best moments for us was when our very own Tami Heaton took the main stage and really got everyone's attention with her discussion. She even had some of us in tears. It was amazing.
On Sunday afternoon, we gathered for one last big dinner at Eureka's, picked out by Leslie Bernal and sponsored by Elegant Themes and Monterey Premier. It was a wonderful atmosphere and we had a great time.
One of the funniest moments was when Nathan Weller saw that they had a drink named after him on the menu. So without hesitation, he ordered a glass only to find out it was an $80 glass of whiskey. There were laughs to be had by all!
All in all it was an amazing time and a huge success. Many of us left the event feeling like family. In fact we have already started talking about where we will hold the next International Divi Meet-Up. The folks over at Elegant Themes are also working on plans to to help facilitate more Divi Meet-ups.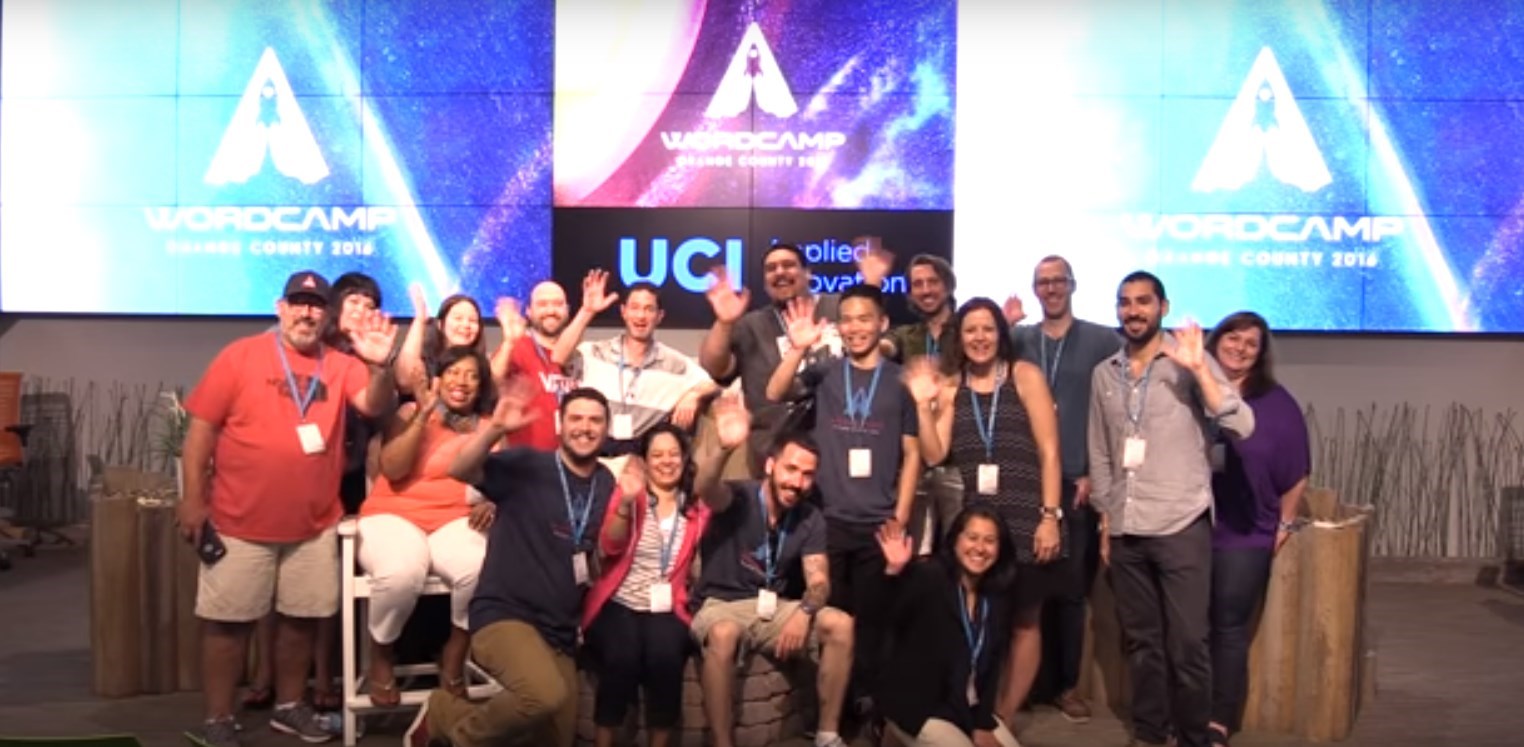 Special Thanks to Elegant Themes
I would also like to personally thank Nathan Weller for reaching out and embracing the Divi community through personal conversations, the Divi Nation podcast and by engaging in the Divi Facebook groups. And of course for the time we have spent getting to know each other both this weekend and during his last visit to California when he introduced me to Nick Roach, Mitch Skolnik and Andy Tran of Elegant Themes. Thank you Nathan!
And of course none of this would be possible if not for Nick Roach and the team at Elegant Themes for creating a product that is powerful enough to create such an awesome community. Without them most of us may have never crossed paths and many of us would still be struggling freelancers. I wanted this weekend to be my personal thank you for your gracious hospitality when I came to San Francisco to visit you.
Below is a video Nathan put together to help us capture the event even better.
Thank You WordCamp Orange County
I would also like to give a shout out to the organizers of WordCamp Orange County. First of all for putting together a great WordCamp in an awesome venue. And second for putting up with our unruly bunch. You guys were top notch!
An Extra Thanks to My Friends and Colleagues! Cheers!
On behalf of all of us here at Monterey Premier, I would like to give an extra special thanks to our colleagues and friends. Thank you all for coming out and making this one of the most memorable events ever. There are so many things I want to say about all of you that if I did, this post would go on forever.
You are living proof that this community is thriving, is amazing and worth every minute being a part of. You have proven to us that we are on the winning team. You have proven to me that being a part of this community is the smartest decision I ever made. Thank you!!!
I would also like to give a special shout out to Leslie Bernal for spearheading the Social Media push for #diviwcoc16. We came close to trending because of all your hard work. And many were able to share in the events because of the social media streaming site you created just for this event (and others to follow).
https://divinationdoeswordcamp.com/
CHEERS!!!!
Photo Credits go out to Leslie Bernal, Adam Inlay, Terry Hale, Tami Heaton, Sarah Oates, SJ James, Tammy Grant, David Blackmon, Nathan Weller & Vivien Quiroz. If I forgot to mention anyone, please add it to the comments below 🙂
Geno is the Owner/Creative Director at Monterey Premier, a web design agency that specializes in Divi and is based out of Monterey, Ca. He is a Divi expert and is known for his Divi tutorials & tips on Quiroz.co and is an excellent source of knowledge for anything related to Divi. Geno is also a Canva expert and helps other Canva users with his tutorials and tips here on the Monterey Premier blog. He has been designing websites since 1996 and enjoys all things design, traveling, hanging out with friends, encouraging other believers, and experimenting with new technologies.