The digital marketing landscape is saturated with brands offering accessible, helpful knowledge in their chosen niches.
They understand the role that content plays in building an online presence and supporting the sales funnel. They grasp the fundamentals of how to attract and retain customers by publishing semi-original, helpful content on their company blog, social media, and third-party websites.
What sets niche leaders apart from these companies is knowing how to use these marketing channels to build genuine authority in their respective fields.
In short, their hearts are in it – they're not there just because it makes them look professional, but rather because they truly are experts in their field and have something valuable to say. They must have a sincere desire to provide exceptional value to their customers and leads. This is the opposite of doing the minimum for the sake of perception.
Building authority is all about having a genuine desire to go the extra mile to add value to the lives of your audience. Any other, less sincere motivation will seep into the content itself, and you will lose the opportunity to build credibility.
Brands with authority are perceived as thought leaders in their fields. Their audience respects and discusses their opinions. They share them online and become advocates for the brand. People seek out their views on shifts within an industry. This creates a brand presence that promotes lead generation and conversion.
In this article, we'll discuss strategies that will support your efforts in building brand authority. We won't be limiting these purely to content creation, as building credibility goes beyond imparting valuable knowledge. It also involves building appropriate partnerships and good relationships within your community.
1. Create Truly Valuable, Original Content
Repackaging knowledge published by industry experts is a popular tactic in content marketing. To build true authority, however, you have to generate original material. Aim to contribute to your niche's information pool with knowledge that stems from your own insight and expertise.
When investing in the content that supports your credibility in a particular space, involve expert writers and researchers. Conduct original surveys rather than reference existing ones. This will make your blog a point of reference for other brands in your field, and it will result in precious backlinks to your own domain.
One brand that has become the absolute go-to reference when talking about value-added content is Brian Dean's Backlinko. When it comes to writing with genuine authority about SEO and content marketing, there are few voices with more credibility than his. He and his writing staff have gained a wealth of experience in this field. They've done so by adopting a culture of originality when it comes to content creation. This has seen them gain a level of goodwill and authority that's virtually unmatched in this space.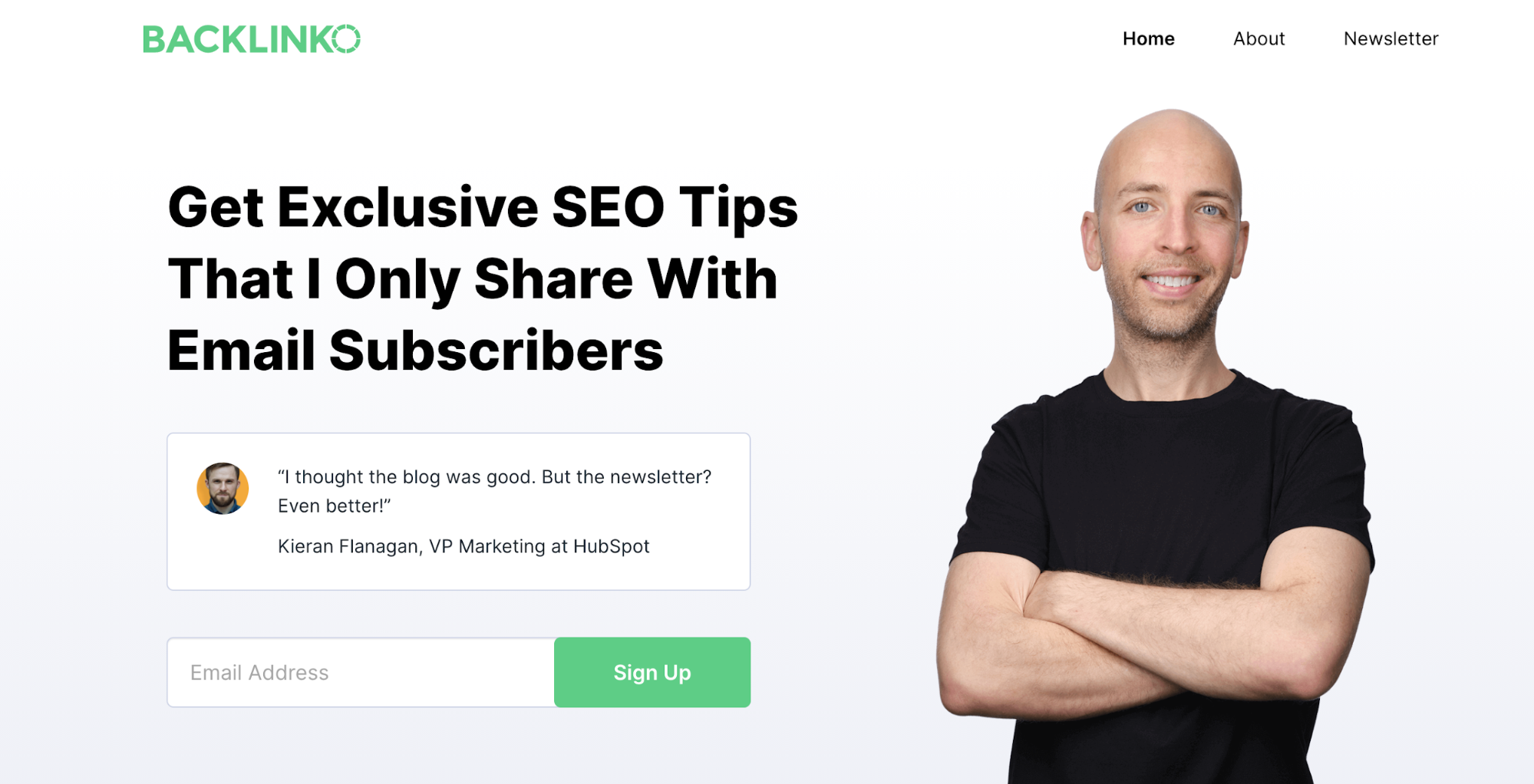 image source: backlinko.com
The lesson other brands can learn from them is to lean into developing serious expertise and then to publish original content on topics that aren't covered in as much detail by their competitors.
2. Become a Trusted Source of Valuable Knowledge
Developing authority isn't necessarily all about generating original knowledge. Becoming a go-to resource for high-quality aggregated content may seem like a bit of a hack, but if done correctly, it can result in enormous credibility for your brand.
A good example of a site that does this is Startup Resources. Their resource "collections" offer visitors access to an exceptionally curated selection of original content created by third-party sites. Their blogging collection, for instance, is one of a staggering 107 selections of topics that startups will find extremely useful.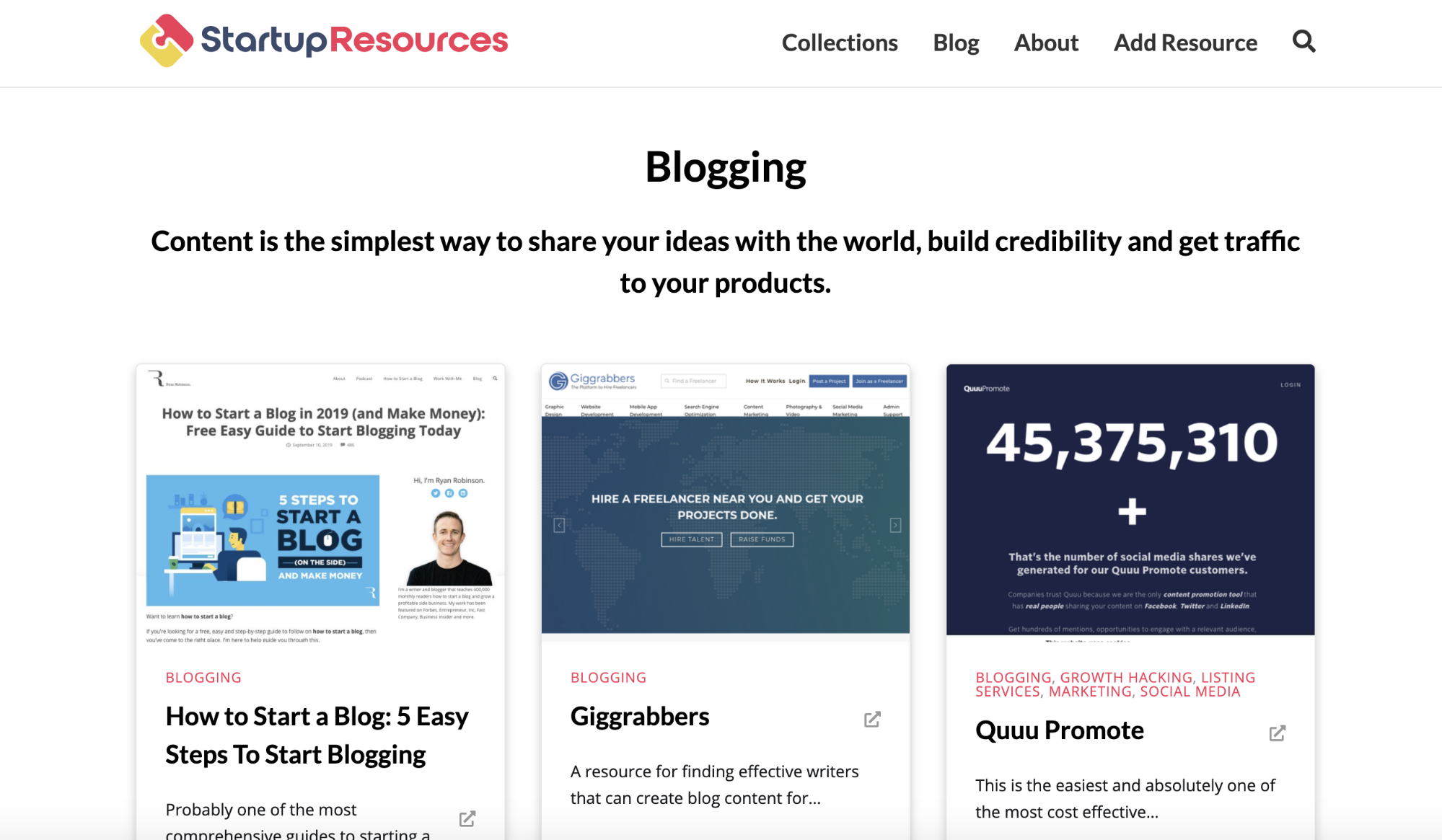 image source: startupresources.io
Startup Resources utilize their ability to research and identify value-added content to build credibility and authority. They're upfront about the fact that they're not sharing their own material. Their product is essentially access to their expertise in finding original information that startups will find useful.
To reiterate a vital point – Startup Resources aren't going through the motions when finding and publishing existing knowledge. Their goal is to add value, even if that value is hosted off-site. They're selling their exceptional insight into a very broad industry to boost their authority.
3. Make the Most of High-Profile Media Exposure
Authority is also something that can be generated by leveraging high-profile media exposure. If you're selling a product that's been fortunate enough to generate positive attention in the press, do everything you can to shine a spotlight on it.
Potential customers place enormous value in seeing a product or service featured on reputable publications or TV networks. "Earned media" builds authority because potential customers view it as unbiased endorsement from a credible source. Making the most of good PR is critical to building authority.
For example, Bay Alarm Medical is a business that's leveraged its PR quite effectively. Being featured on NBC Today gave the company an opportunity to flaunt their authority in a tasteful but highly visible way. On the company's home page, beneath a heading that reads "America's Most Trusted Medical Alert Provider," Bay Alarm Medical has placed a number of endorsements from a variety of sources. Among these is one of America's most-watched networks.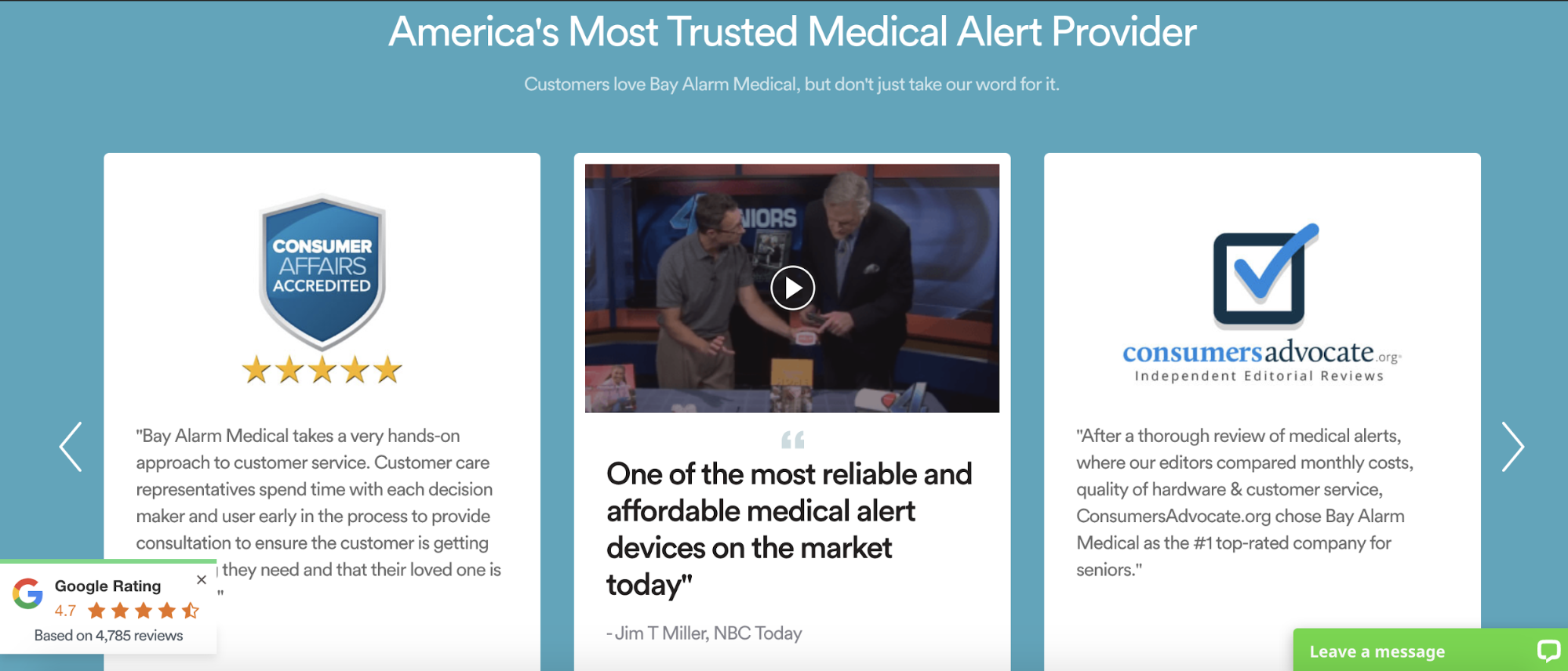 image source: bayalarmmedical.com
This endorsement is placed front-and-center. It stands out from other endorsements in this section because of a well-chosen quote taken from the feature. Visitors can watch the entire video without leaving the site. With one click, they can hear how a trusted voice talks about the benefits of owning a Bay Alarm Medical product.
4. Partner with Appropriate Influencers
Influencer marketing is an approach to building authority that can often backfire. It's a marketing technique that's proven successful for many brands and that can result in enormous credibility, but only if endorsements are appropriate and meaningful.
Consumers are growing tired of inauthentic testimonials and endorsements. The term "influencer" itself has a ring of insincerity to it nowadays. The general public has grown cynical of wannabe online celebrities turning their superficial status into a source of income.
This doesn't negate the potential for influencers to generate authority for your brand, however. Not at all. The key is in finding the right kind of influencer or celebrity – one whose reason for being famous overlaps with the unique selling point of your product.
A company that's done well at partnering with the right influencers and using their endorsements appropriately is Transparent Labs. With endorsements from high-profile athletes (like the guy that plays the Mountain from Game of Thrones!), they build enormous authority for their brand. They also work with lower-profile fitness influencers with highly engaged followings, which is sometimes even more effective.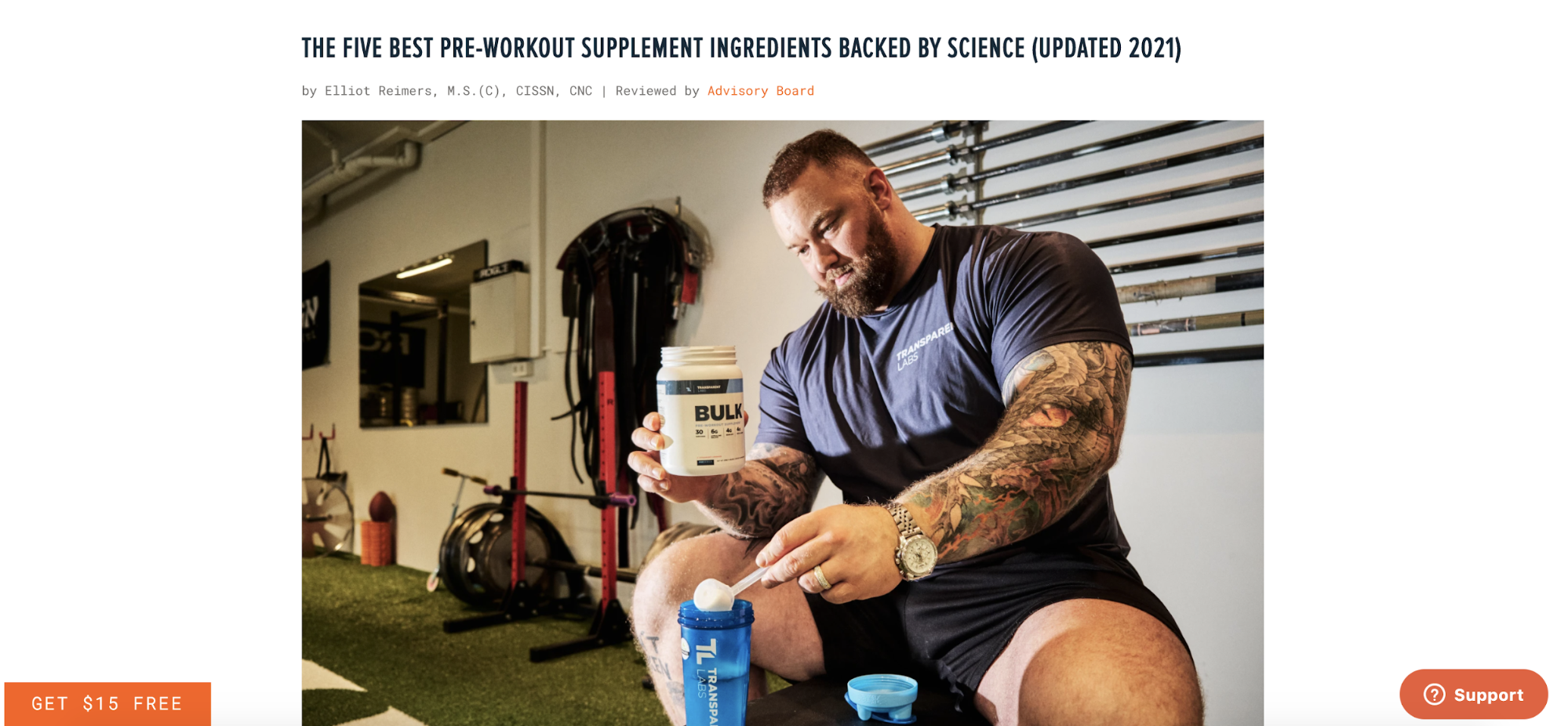 image source: transparentlabs.com
Transparent Labs creates many useful blog posts about health and fitness, and often feature images of the Mountain. He and other athletes also appear often in Instagram posts. These influencer testimonials don't seem inauthentic or engineered. There's a sincerity to seeing these figures in their element, smiling happily next to a product that benefits them.
Authenticity is key to generating authority with influencer endorsement. Choosing the right figure and publishing their opinion for your product in a tasteful way goes a long way towards achieving this credibility.
5. Interact with your Community
Social media platforms like Twitter offer brands a great opportunity to insert themselves into conversations related to their industry. By following other thought leaders and actively monitoring hashtags, you have the opportunity to add your insight to a global conversation.
If your opinions are interesting, provocative, and contribute in a meaningful way to the conversation, you're positioning your brand as a genuine authority. Not only will this create goodwill towards your brand, but it's also an excellent lead-generation technique.
Another benefit of actively participating in these discussions is the chance to absorb valuable information from other experts in your field. Don't adopt everything they say as gospel. You don't have to blindly agree with someone purely because of their reputation. Rather, weigh their contributions against your expertise. If you agree, don't simply say that you do. Add your own unique angle that supports their views.
If you don't agree with a particular opinion, don't get argumentative or condescending. Remember that your brand's reputation is at stake. Provide an opposing view that's based on your experience or data that you have access to. Do so with grace, and you'll be able to build authority without alienating your community.
In Closing
Building genuine authority within a specific industry or niche doesn't just take a lot of hard work. Doing it successfully depends on your approach to interacting with the online public.
Think of everything your brand publishes online as an opportunity to contribute to the knowledge shared by your peers. Build a reputation as a brand that prizes altruism above competition and posturing.
Authority is not just about creating knowledge that positions your business as better than the competition. It involves having respect for your audience and your peers. Always bear this in mind as you create content and interact with your community. If you do this with grace and subtlety, it won't be long before you find yourself among the thought leaders of your industry.
Featured Image Credit:unsplash.com
The following two tabs change content below.
Latest posts by karlkangur (see all)