Brainstorming Techniques to Try
Let's say you're a web developer, or maybe you work in advertising and marketing, or you could even be an interior decorator. The nature of your work allows you to exercise your creativity and develop something from literally nothing but a vision. However, like all great artists and creative individuals, inspiration or "vision" doesn't always just appear out of thin air. Sometimes, actually, most of the time, it takes some long and tireless hours of brainstorming to develop a picture of what you're trying to create.
Brainstorming is not dead, and it likely will never die as long as creating something is still a thing. So if you find yourself in a rut and can't seem to come up with the ideas for your project, why not start brainstorming? Check out these different brainstorming techniques to try…
Teleporting Storming
Is this technique ringing a bell? We didn't think so. Well, you may actually do this more often then you think without even knowing it. Teleporting Storming is when you can't find the right approach to take when trying to figure out a problem or come up with an idea. So you close your eyes and put yourself in a different place, figure somewhere you want to be – vacation maybe? How would you solve this if you were somewhere else rather then in your office space? What ideas would you come up with?
Figuring Storming
Figuring Storming is "putting yourself in someone else's shoes" to practice. If there's someone in particular that you idolize, maybe a celebrity or someone in your field, try thinking about how they would handle the process or what they might come up with. It could help guide you to start your creative process path.
Mind the Gap
Let's say there's a gap in your problem solving process. Or your creative process. You're at A, but you need to get to Z, but the big question is, how do you get there? Create some map that clearly points out A and Z, and start working out everything in between and the steps to take to fill in the gap.
Changing Your Attributes
This can go hand in hand with the above techniques, except, try changing your perspective being you as you are. your race, ethnicity, religion, culture, where you're from, etc. You're ideas can expand when you draw your inspiration from someone completely different than you. This is a great way to get a fresh take on things.
Mind Mapping
Mind mapping is most likely the most classic approach of brainstorming. Mind Mapping is putting a goal in the center of a piece of paper or board, then branding into subtopics. Create as many subcategories as possible as well as ideas that spring from them. It's great for writers and other creative types who are looking for a commonality but have the freedom to get a little more innovative.
Superstorming
Think of a superpower that you wish you had. If you had the ability to have X-ray vision, how of you think that could change your brainstorming session? Maybe if you could read minds or maybe even be invisible. What if, you could become a superhero, would you take a more aggressive approach? Think about how gaining a superpower could help the process. Sounds silly, but you'd be surprised how effective it is!
Blind Writing
This doesn't just have to be for writer's block, it can be for anything! All you have to do is simply put pen to paper for a minimum of 10 minutes and write. You will open up new ideas that you didn't even know you had in you. The only rule is you have to keep writing, even if it's to jot down, "I have nothing to write about." At some point, you'll come up with something. Whether or not it's anything useful or effective doesn't matter, because the point of it is to energize the part of your mind that does the work of writing.
Group Ideation Storming
Brainstorming in a group is also one of the most effective and classic ways to get some good ideas out on the table.  When you start discussing ideas as a group, you'll naturally feed off of each other and discover more creative things. This can be extremely helpful for brainstormers such as artists who often do their work solo and have a hard time finding those creative ideas on their own.  You can call it a "group" with a little at two people!
We'd love to hear from you! Do you have any great brainstorming techniques that help get you through the creative process? Tell us about it in the comments!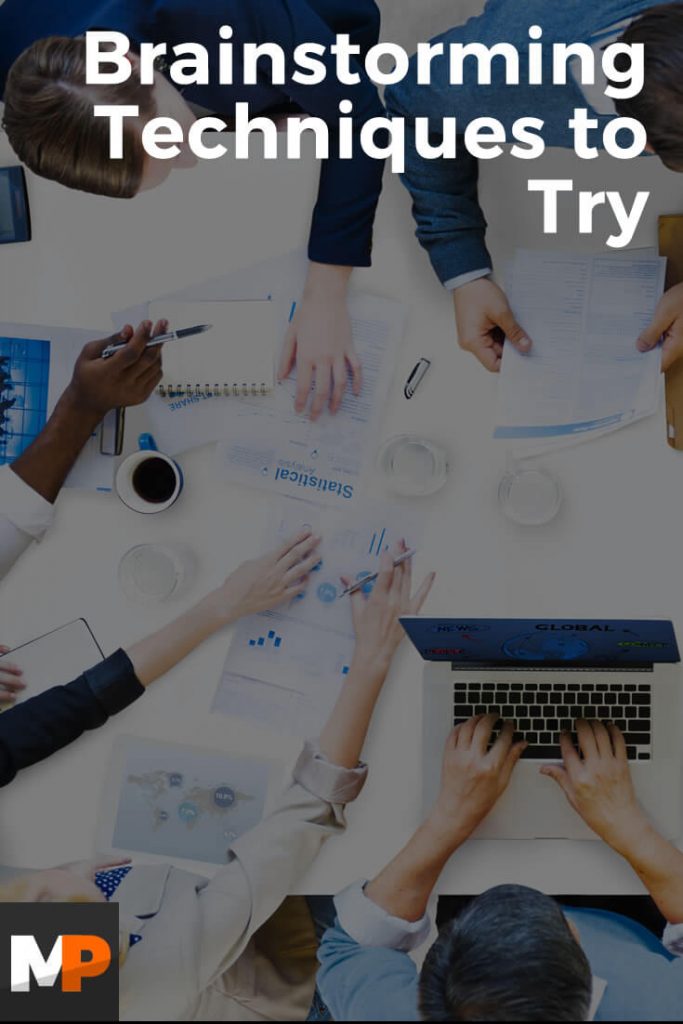 thumbnail credit: depositphotos.com
The following two tabs change content below.
A Florida native filled with charm, a sense of humor, style, and a passion for writing, Dana Damato is a talented journalist covering all things entertainment, fashion, food, travel, and lifestyle. Dana first realized her dreams of becoming a writer at age ten and wrote her first book at the age of 12. With a growing passion for writing, Dana knew from then on that being a writer is what she needed to do as a career.
Latest posts by Dana Damato (see all)