https://www.quickfee.com/millennials-want-business-10-surprising-statistics/In the modern day and age, the entrepreneurial career path has become something of a romantic notion. The big wealthy businessmen and their luxurious lifestyles have captured the imaginations and dreams of many young minds, sparking new aspirations inside them.
However, that is the only side of the business career that is highlighted amidst the flashing lights and the fancy living situations, the travels, the fashionable wear and other habits of the successful entrepreneur. What is not highlighted, is the long hard steep climb up the mountains of the business industry, that requires many years of tireless efforts, sleepless nights and thankless tasks.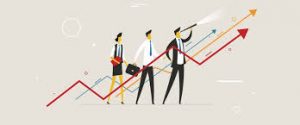 The purpose of this statement, however, is not to discourage and/or disappoint the young entrepreneurs from putting their plans into motion and accomplishing what they set out to accomplish, but merely to paint a more realistic picture of the journey that they set out onto. And also to make them aware that while it is no easy feat, growing your business into a large-scale organization with considerable pay-off is very much possible and achievable if you keep in mind a few important points of the business trade.
Expand your offerings and provide more to the customers
The world is an ever-changing phenomenon and that is a fact that businesses, in particular, need to be aware of and something that they should be keeping a keen eye on. No matter what commodity you offer to your customers, the buzz that it generates momentarily is a guarantee to not last forever.
The fame of your product generates from a need of the product and in an ever-changing world, needs hardly stay the same and that is why the entrepreneurs hold the highest duty of staying on their toes when it comes to recognizing the needs of their customers. Businesses need to expand and change the services or products they are offering according to the needs of their customers and also understand their future needs and be the first to provide them with what they require.
A good example of this is the JD.com business of Richard Liu which initially started with just one product and kept adding new products every year until they grew to be carriers of one of the largest range of products in the world.
Build customer relationships
The customer is always right is a phrase that has been used in businesses for as long as anyone can remember and the reason is very simple. No matter how much capital you have to fund your business, no matter your stock, no matter your service, the most important part of any business is its relationship with its customers.
The relationship between a business and its customers is a key to its success so much so that it is said customer retention of just five per cent can result in a profit increase of 25 to 95 per cent. Customer service is most carefully examined in all of the large business today because they recognize the importance of a customer who is loyal to their business.
Become a recognized leader/expert through social media marketing
A very effective strategy in today's world to attract customers is having a face to go with your brand. The heads of many large companies, today, are famous personnel that are known for their knowledge and expertise in the particular field which their company is venturing through. This builds a trust in the customer's heart for the company and offers credibility to the services or products that you provide.
This can be done through various platforms available today which involve Facebook, Twitter, Instagram and many others social media websites with a wide range of marketing options available. Whether you like to write, make videos, or even just have your voice echo through earpieces, it is all easily within your reach and can provide massive benefits. CEOs of huge companies such as Elon Musk and Mark Zuckerberg are highly active on their social media platforms and always dropping pearls of wisdom and interacting with their customers.
Keep your employees happy
The backbone of any company is its employees who are behind the scenes, every day working hard to make the business a success. So, naturally, employees who are happy with their job will work harder and that will result in a successful business.
One of the ways that employees can be satisfied with their jobs is if their job is providing them monetary rewards like bonuses and allowances and non-monetary rewards such as term life insurance and other workplace benefits. Similar examples are available worldwide nowadays, as providing employee health insurance is seen to be related to increased productivity.
Know your competition
While most entrepreneurs try to come up with unique ideas, there is a good chance you won't be the only one providing the services and products that you provide, which is why being aware of the competition is a key to make sure that you stay one step ahead of them and your customers don't leave you to find similar services, but, better elsewhere.
Form partnerships
Forming partnerships with the right companies can be highly beneficial, particularly if your company is only just starting out. Forming partnerships can allow you to reach a wide range of audience that you might not have got that easily on your own and gives you many opportunities to expand your market which is much needed when starting a business.
Geographic expansion
While this is a slow process, it is still a necessary one. Keeping an eye out for slowly but surely expanding your geographic territory by manageable standards is a very important part of growing your business because it allows you to reach new customers in untapped areas and it helps to expand your client base.
Learn to walk away at appropriate times
Not all customers and opportunities are going to be good for you. Some of them are not going to fit your growth plan and that is why it is essential to recognize when and where to just say no and walk away to continue on your chosen path.
In Closing
Growth in business is not an easy task and certainly not a quick one and at times the line can get real blurred and you may feel you're trapped but the important part is to keep a calm mind and look at everything with a clear vision and the solutions to most of your problems are available and you can grow your business into the size you want, simply by following the basics.
The following two tabs change content below.
Helen Cartwright is a passionate blogger, who excels in the Digital Marketing and Technology niche. When not wired in marketing strategies she ghost-write for a variety of authors who have their work published on leading online media channels such as The Huffington Post and Entrepreneur.com.
Latest posts by Helen Cartwright (see all)