Providing you haven't been living under a rock for the past 20 years, chances are you already know a little bit about SEO. You probably know that it's an acronym for "Search Engine Optimization" and that it's pretty important when for your website to get as much traffic as possible. But have you ever considered international SEO? What does it mean? Why it's vital for businesses and organizations with international ambition? 
In this article, we're going to do a brief recap on SEO, followed by an in-depth look into the art that is multilingual SEO and how it can enable businesses and organizations alike to maximize their international traffic. We'll take a look at the ins and outs, ups and downs, and ultimately share with you along the way, our top multilingual SEO tips to help you maximize your own international traffic! 
How does SEO Work?
SEO is the process of enhancing your online content to rank higher on organic search engine results, whereas SEA refers to search engine advertising and involves ranking highly on the paid results. In fact, SEO is one of the most important marketing strategies for any business and can be a huge determinant of commercial success. 
Effective SEO combines a number of different elements to help you climb the search engine result pages (SERPs), such as the use of keywords, providing relevant content, indexing following search engine best practices and considering the importance of metadata.
Multilingual SEO
What is a Multilingual SEO?
As the name implies, multilingual SEO is essentially the same thing as regular SEO and involves applying the same principles and best practices, but doing so in multiple languages. This is a huge consideration for any company expanding their business and seeking to attract new customer segments from across the globe. 
Failing to cater for multilingual SEO runs the risk of your website and its offering not being discovered by your target customers who speak and search online in different languages.
Of course, if you're planning on growing and expanding your business into many markets, the prospects of addressing all these multilingual SEO needs might seem like an intimidating task. Luckily, we've got a number of tips to help you take the heavy-lifting out of our multilingual SEO efforts and focus on your organization's growth: 
1. Translating Your Content 
When it comes to multilingual SEO, one of the most important things to do is to translate your site's content – in its entirety! Of course, translating your site's content is set to enhance User Experience (UX) and make customers who speak foreign languages feel valued and appreciated.
Now, for those of you with thousands of pages and hundreds of thousands of words to translate, you may be thinking, how can I possibly do this? From a financial standpoint, the cost of getting all of your webpages professionally translated by humans could be colossal, not to mention how long a project of this extent might take. 
Fortunately, there are a number of translation solutions available that can alleviate this process. For example, the Weglot translation solution combines the speed of neural machine translation and the precision of post-editing human translations. 
In this way, all of your site's content, whether it be one hundred or 100 million words, can be given an instant first layer of automatic translation and can then be subsequently edited or adjusted by humans. 
2. Translating Your Keywords 
Just as target keywords are crucial for standard SEO, so too are keywords when it comes to multilingual SEO. Essentially, what this will come down to is translating your keywords as accurately as possible to maximize your search engine potential.
However, it's also important to recognize that the search intentions and behaviors of web users can vary from region to region, and so, what may be a strong keyword in one country, might not necessarily be the same in another. As a result of this, it's prudent to carry out keyword research for each country you're targeting and translate these high volume keyword searches accurately. 
Fortunately, the Weglot translation solution is optimized for multilingual SEO and allows users to edit and replace keywords within the intuitive Weglot dashboard!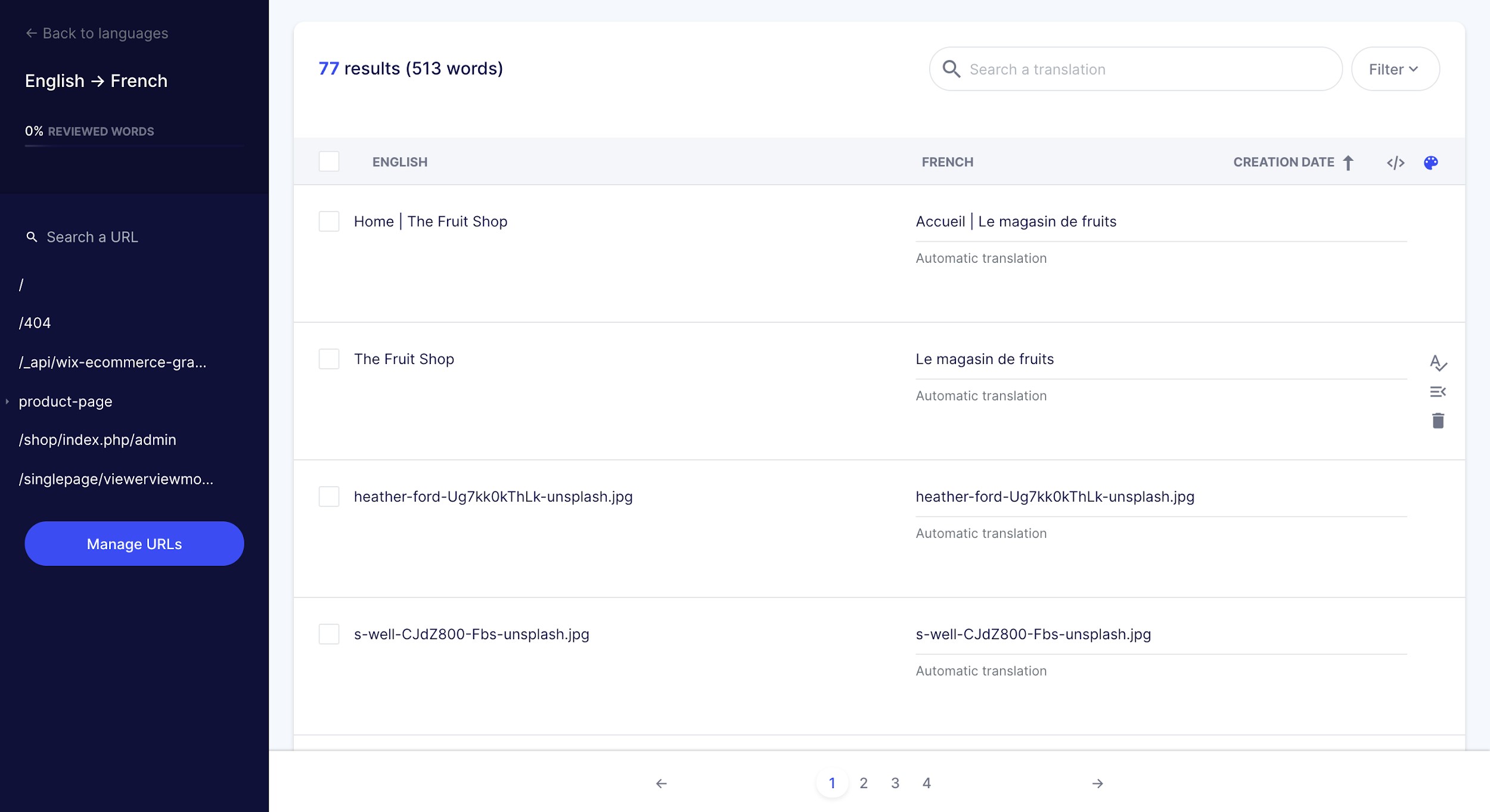 With Google accounting for 86.02%  of the global market share for leading search engines, we recommend planning your keyword research with reference to Google. However, if you're targeting a country like China, where the main search engine is Baidu, it's a good idea to do your keyword research with reference to it.
3. Metadata Translation 
If you've been doing domestic level SEO right, you'll already be aware of how crucial things such as your meta title and meta description are. Meta titles and descriptions stacked with relevant keywords and info enable search engine bots to understand the content within your page and will lead to higher rankings on search engine result pages. Beyond this, these titles and descriptions are an important thing to get right for prospective visitors. 

So, if all this metadata is so important, you're definitely going to need to translate it for potential web visitors searching in different languages. Of course, for every web page you have on your site, you'll have to translate the metadata, which can seem like a herculean task. Fortunately, certain multilingual solutions such as Weglot automatically look after your multilingual metadata needs and automatically translates all of this information, meaning your web pages are indexed following multilingual SEO best practices.
If you're using Weglot for your multilingual needs, it's worth noting that you can also edit and adjust this translated metadata, and any other translations, via the Weglot dashboard in a hassle-free process. You can filter by 'Meta SEO' to do this, or alternatively, you can simply copy and paste the original metadata into the search bar in the 'Translations' section of the dashboard.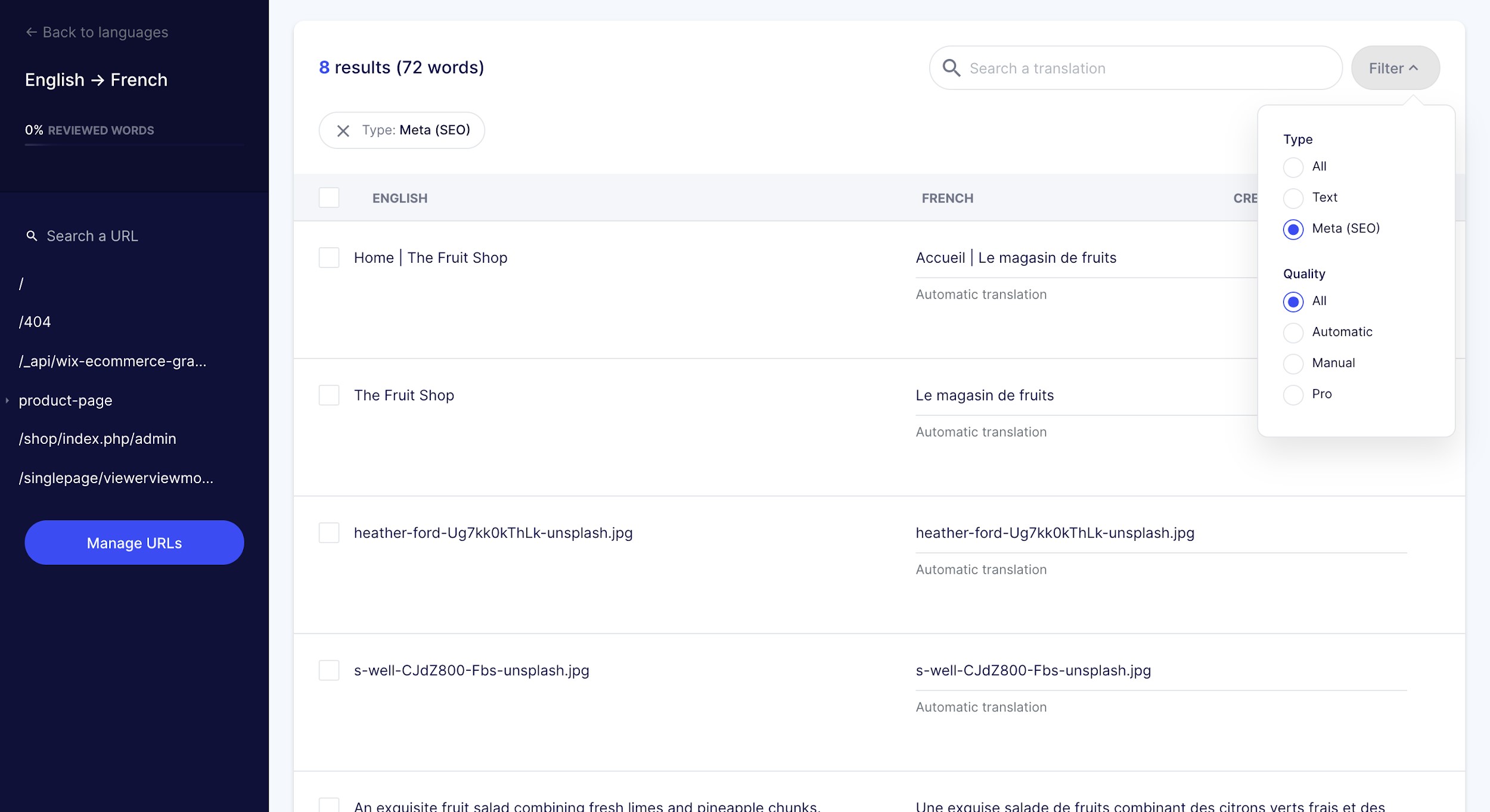 4. URL Structure and Use of Subdomains
Another tip for conquering international SEO and increasing traffic is to pay attention to your URL structure. Believe it or not, that has a significant impact on your search engine ranking.
A common misconception made by companies looking to expand their businesses into new territories is that it's necessary to set up country-specific domains with something such as www.mywebsite.fr. While this may have its advantages, you also need to consider the following:
The cost of running multiple domains

The task of managing all these different domains 

Building domain authority for each individual site  
Going for this option means that you'll have to carry out individual SEO efforts on each site with no level of integration, which can be heavy on both time and monetary resources.
A better option, according to Google best practices on multilingual SEO, is to set up dedicated URLs for each language version of your site, which includes a language indicator. For example, you could use: 
Subdirectories: Look like → www.mywebsite.com/fr/
Language-specific subdirectories are really easy to set up and are favored by Google when it comes to multilingual SEO.
Subdomains: Look like → www.fr.mywebsite.com
Language-specific subdomains, like directories, are easy to set up and are advantageous because you're only paying for one domain name! In addition, these subdomains are well received by Google.
When you're considering all of this, it's worth noting that Google heavily penalizes duplicate content on websites when it comes to SEO rankings. A rookie mistake might be to display all your translated content on one page, but this practice is highly discouraged. 
If all this seems overwhelming, you'll be glad to know that Weglot is able to automatically display all of your translated content without the need for duplicate websites or duplicate translations on your pages. It automatically sets up language-specific subdirectories or subdomains based on the CMS you're using. This means your website will now be automatically set up under optimal search engine URLs, helping you to gain traffic instantly!
5. Hreflang Tags
Our final SEO tip for maximizing your international traffic is to apply hreflang tags. Basically, hreflang tag attributes tell search engines what language you're using on a specific page, which in turn helps them to serve that result to users searching in that language. These attributes also take into account the region in which the page is intended for. The combination of these two factors makes it a very precise and effective SEO tool for boosting traffic towards your site. 
This hreflang guide discusses different ways to implement the tags on your own site via either the header section of the original page or alternatively through the use of a sitemap. 
To give an example, imagine you're applying hreflang attributes to a French-language page intended for web visitors in Canada, this might look something like: 
<link rel="alternate" hreflang="fr-ca" href="http://example.com/fr/" />
In addition to this, if the page is targeted for users in more than one region, numerous hreflang tags can be added. 
As stated by Google's own John Mueller, this is an aspect of multilingual SEO that can quickly become a tedious and complex task. However, before you're completely deterred from the idea, it's worth noting that Weglot is fully equipped to deal with hreflang attributes and automatically adds them for you, meaning you won't have to worry about any code and can successfully target your desired audience. 
Final Thoughts
Now more than ever, a strong presence on the web is a vital consideration for any business and can be a strong determinant of success. Multilingual SEO, while elaborate, is not an impossible task, and getting this right on an international level could be what brings your business to the next level. Luckily, there are lots of tools out there to take the pain and heavy lifting out of what may seem like a daunting task. 
Why not try out Weglot's free trial and see how it can help you get your multilingual SEO on track!
Featured image credit: unsplash.com
The following two tabs change content below.
Latest posts by Juliette Anderson (see all)