Word of mouth has long been a powerful tool in getting new customers. Reviews are the new "word of mouth" referral system most relied upon by shoppers.
Research shows that 90% of consumers read online reviews before visiting a business, and 88% of consumers trust online reviews as much as personal recommendations. Customers are likely to spend 31% more on a business's "excellent" reviews, and 72% say that positive reviews make them trust a local company more.
In this article, I am going to show you why you should start collecting customer reviews, how you can start collecting reviews on your website. I am also going to run through the things to avoid when you are creating a reviews collection page.
Why You Should Start Collecting Customer Reviews
Customer Reviews Can Help Attract New Customers
Customer reviews are great for helping people make their buying decisions. Still, they're also essential for building trust in a business. Look at it this way – if you're a customer, which company would you prefer to do business with: one that has over 100 positive reviews or one that only has a few. Yep, it seems obvious, doesn't it?
Consumers are far more likely to trust a business when they see reviews from people who have experienced positive things about your brand.
Enable Customers to Have a Voice and Create Loyalty.
Customers want to be able to speak directly to their suppliers. They want to be treated as individuals rather than as numbers in an accounting system. Reviews enables this direct customer connection. By allowing the customer to offer feedback directly, and by listening to them, the customer has a voice.
Consumers that spend the time to write a review for your business are far more likely to feel a loyalty to you and keep coming back. Especially if you respond and acknowledge their concerns when they arise.
People Are Doing Your Marketing for You
Think of it this way; each positive review is a tiny little marketing person working 24/7 on the internet on your behalf. Most positive reviews highlight the features and benefits they love most, helping the customer get familiar with the product before they even have to talk to someone in person or on the phone.
Studies show that 92% of users will use a local business if it has at least a 4-star rating, and 75% of consumers will take action only after reading a positive review. If applied strategically, collecting reviews is one of the best marketing tools in your arsenal.
How to Collect Customer Reviews
Now that we have covered the benefits of collecting online reviews and testimonials, let's cover some of the practical ways to start collecting customer reviews on your website.
Make a Website Page Where You Can Collect Reviews
First, you need a place to collect reviews. Your customers may come to you via social media or a review site like Amazon. To collect those reviews, you will create a dedicated web page that's easy for customers to share their feedback.
You will want to encourage them to submit reviews on popular third-party platforms such as Google, LinkedIn, Facebook, Yelp, Yellow Pages, and more. So you may want to include links to those pages as the preferred method to submit a review.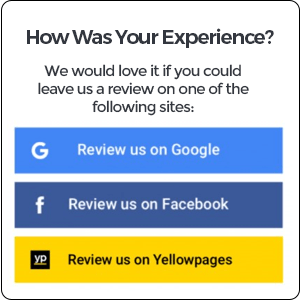 You can always include a form on the page that users can submit a review directly to you. Still, these external review platforms are vital as these are indexed in Google, and those backlinks to your site from these platforms can improve your SEO. You will also have a better chance of people finding your business and reviews online because of these platforms.
Make Your Page Easy to Share
This page should be easy for you to share with your customers after they've purchased. It's important to make the URL easy to remember and share, such as http://example.com/leave-a-reviews.
One of our favorite sharing plugins is the Monarch by Elegant Themes. Monarch is a premium plugin that allows the reader to share a website page or blog post on over 20+ Social Media channels. Monarch is free when you sign up for an Elegant Themes membership and is included for free with our monthly maintenance and hosting clients.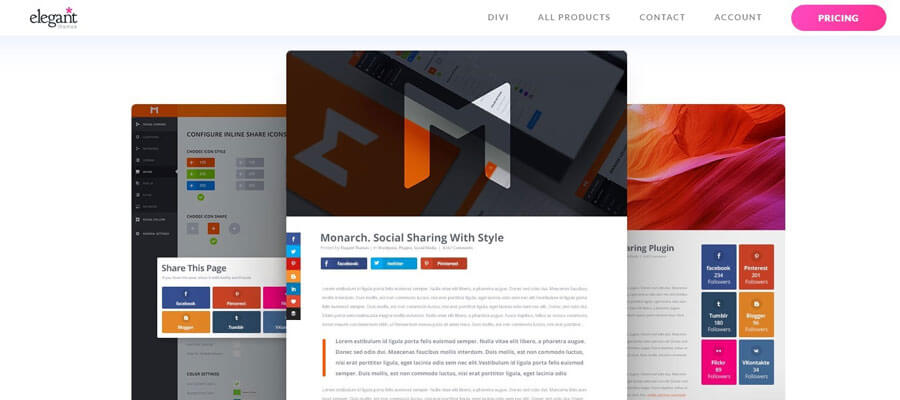 What Goes on the Page?
It will help to keep this page as simple as possible. The easier it is for the customer to leave a review, the more likely they will. You can create a form that collects reviews directly or point people to websites where you collect reviews, such as Google, Facebook, Trustpilot, Yelp, etc.
These external review platforms are vital as these are indexed in Google, and those back-links to your site from these platforms can improve your SEO. You will also have a better chance of people finding your business and reviews online because of these platforms.
Things to Avoid When Collecting Customer Reviews
Review Gating
Review-gating is the process of making sure that only those who will provide a high-quality review will do so while screening out those who won't give you any help at all.
Business owners are terrified of negative reviews and would love the opportunity only to have 5-star reviews; however, review gating is directly prohibited in Google My Businesses guidelines.
Not Having Clear Customer Feedback Goals
A common mistake is to assume that gathering feedback from customers is enough. However, most companies do not evaluate or apply the results. Without clearly defined goals, the feedback collected is likely to be unhelpful.
Failing to Show Respect and Courtesy for Your Customer's Time
Decision makers have a lot on their plate and taking the time to write a thoughtful review can be an added burden to an already overwhelming schedule. An introductory line saying that you get it and appreciate that person's time can go a long way in building rapport.
Forgetting to Show Appreciation
Thank your customers for the feedback they provided you. Showing that the customer's feedback is valued by the people that will be affected by the review will make your customer feel even more appreciated!
Bonus Tips
Video Testimonials Are Very Effective
Another proven way to deliver more trust to potential customers is through video reviews and testimonials. ZipMessage is an example of a tool that you could use for this. ZipMessage facilitates a link that allows somebody to leave a video. They have several plans to choose from, including a free plan.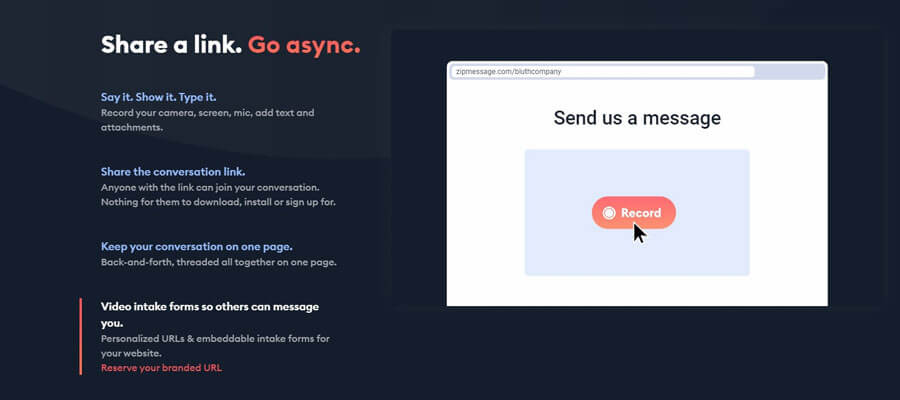 Display Reviews From Other Platforms On Your Website
If you are using WordPress for your website, you can use a plugin like WP Business Reviews that lets you add Yelp, Facebook, and Google reviews to WordPress. With this plugin, you can easily showcase your reviews from multiple platforms. You can choose to display reviews from all your platforms together or just one.
If you need something a little more robust, ReviewsOnMyWebsite.com looks promising. While I have never used it before, I came across it while researching this topic and I think I will be giving it a try on my own website soon. I like that it has a number of popular networks to connect to and some of the feedback funnel options that come with the more expensive plans.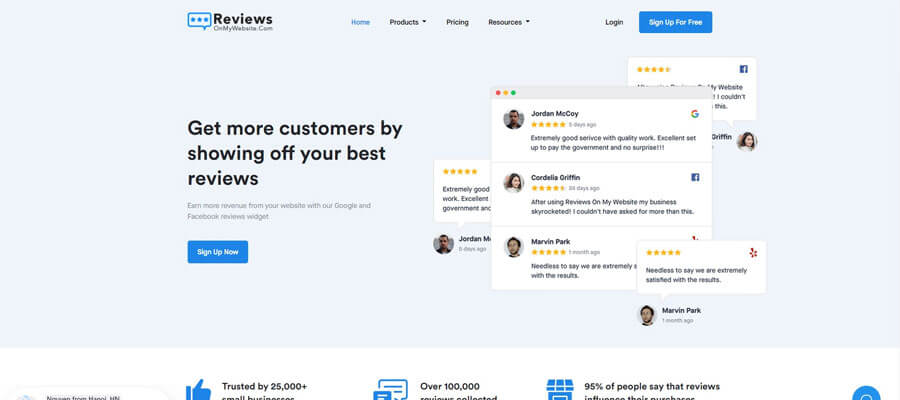 In Closing
Asking a customer for a review or a testimonial can be a little nerve-wracking if you are not comfortable with criticism. Also, you don't want to be pushy, but at the same time, it's essential to get comments from your customers about your product or service. How will others know if you're suitable for their company if you don't?
You don't need to do anything complex or spend time chasing every customer for a review. By following some of the guidelines listed here in this article, you will get more reviews from your customers and more sales thanks to all those new positive reviews.
Geno is the Owner/Creative Director at Monterey Premier, a web design agency that specializes in Divi and is based out of Monterey, Ca. He is a Divi expert and is known for his Divi tutorials & tips on Quiroz.co and is an excellent source of knowledge for anything related to Divi. Geno is also a Canva expert and helps other Canva users with his tutorials and tips here on the Monterey Premier blog. He has been designing websites since 1996 and enjoys all things design, traveling, hanging out with friends, encouraging other believers, and experimenting with new technologies.