Description

App Showcase Features:

100+ additional Customizer Settings (Export/Import ready)
Custom menu
Menu CTA button
Menu hover effect
Highlighting active menu items on scroll
1 app landing page layout

Custom footer

6 additional footer social icons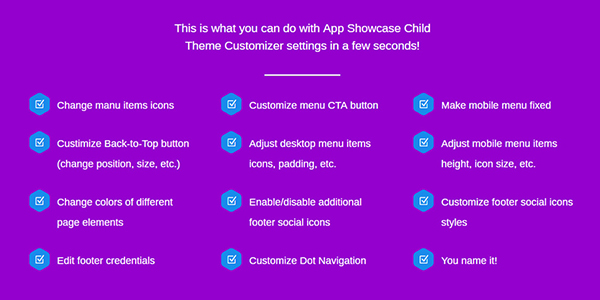 ---

App Showcase child theme Download Package includes:
readme.txt – includes App Showcase child theme detailed installation instructions.
changelog.txt – includes child theme updates info.
footer.php
functions.php – Enqueues Divi parent style sheet and other files necessary for child theme's proper functioning.
style. css – Contains App Showcase's custom CSS styles.
screenshot.jpg – Shows up in your themes section.
import folder – includes .json files to import Divi Builder Layouts, Divi Theme Options & Divi Customizer Settings.
   a. Divi Builder Layouts.json
   b. Divi Customizer Settings.json
   c. Divi Theme Options.json
includes folder – includes social_icons.php and admin folder
   a. social_icons.php
   b. admin folder containing customizer.php file
js folder – contains js files for admin area and front end.
   a. theme-customizer.js
   b. chi-custom-js-scripts.js
   c. admin folder containing wp-color-picker-alpha.min.js 
---



This Child Theme Requires:
A Domain Name
A Hosted WordPress Site
Divi Theme by Elegantthemes.com
---



License Information
You are free to use App Showcase child theme for both personal and commercial use on unlimited number of websites;
You cannot resell or redistribute the child theme in any form or by any means without prior written permission of the author.
---



Change Log
*** Please read changelog.txt file before you apply these updates ***
>>> v1.0.2 (16.09.2016)
UPDATE:
– Fixed the contact form width issue for Divi 3.0 
>>> v1.0.1 (31.08.2016)
UPDATE: 
– Fixed issue with Divi Theme Options
>>> v1.0.0 (22.08.2016)
Initial Release